The Legend feature is causing a lot of controversy in TFT season 9, when some gamers think it causes an imbalance, while others enjoy drawing cards and drawing champions to create the ultimate squad. mine.
The fact that Riot Games hides the parameters related to the Legend feature has made it impossible for normal gamers to directly evaluate and analyze. This has caused gamers to rely on following the streamers and top gamers of DTCL to learn the "secrets" to climb rank in the most optimal way. In the fierce climbing race, learning from those with deep experience and knowledge becomes an important factor to improve gameplay and achieve higher.
Today, let's take a look at the top 30 DTCL Challenger players on the North American server and how they choose the optimal Legend:
A surprising thing is the choice of Challenger gamers DTCL for Legend. Poro became the most picked Legend with 14 picks in the majority of matches.
>>See more: League of Legends: Gumayusi publicly "Uzi has been a role model since he was a trainee"!
The second is Twisted Fate, it is not surprising that this character is popular with the most optimal swapping ability to build meta squads like Aphelios, Zeri or Garen. Other Legends such as Lee Sin, Ornn, Ezreal and Master Yi are also picked, however, their pick frequency is lower. This shows that choosing a Legend still depends on the tactics and personal preferences of each gamer.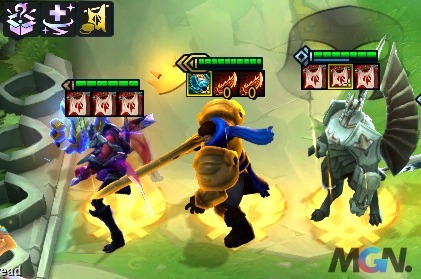 That's right, Poro is a Legend DTCL the most basic and does not manipulate the 3 Upgrade Cores, this means that everything will be random as in Truth Arena origin.
Challenger gamers, with a deep understanding of the game and the ability to play all types of formations, will make the most of the power of equipment and champions the game has to offer to climb the ranks. Their lack of reliance on Upgrade Cores keeps them from being limited by a specific number of squads. Therefore, Poro becomes the first choice for Challenger gamers, allowing them to experience DTCL Go to the highest level and challenge yourself in the game.
>>See also: League of Legends: Appears tips to reduce the price of costumes according to the player's wishes
Twisted Fate is ranked second and also becomes an important choice for gamers in DTCL, and many consider it too powerful and needs to be adjusted. The power of Twisted Fate can alter the game's random balance structure and create unique lineups. Maybe Riot Games will have to consider changing or reducing the power of Twisted Fate in the future to ensure balance in the game. Even casual gamers have recognized the power of Twisted Fate and used it widely. And don't forget to follow MGN.vn page to update more latest news!