The official schedule of the latest LCK Summer 2023 Group Stage on May 25, Riot Games Korea has officially announced, accordingly from June 7, the tournament will start.
The LCK teams ended MSI 2023 unsuccessfully when the representatives were unable to touch the trophy. However, it is undeniable that the attraction that the LCK brings compared to other domestic tournaments in the world. That's why the official schedule of the LCK Summer 2023 Group Stage is of great interest to many fans.
Recently, not to let fans wait, the organizers announced a detailed schedule for the LCK Summer 2023. Basically, the format of the Group Stage matches has not changed compared to the previous season. Teams still compete in turn to calculate points through BO3 matches. At the end of the group stage, the 6 strongest teams will enter the Play Off.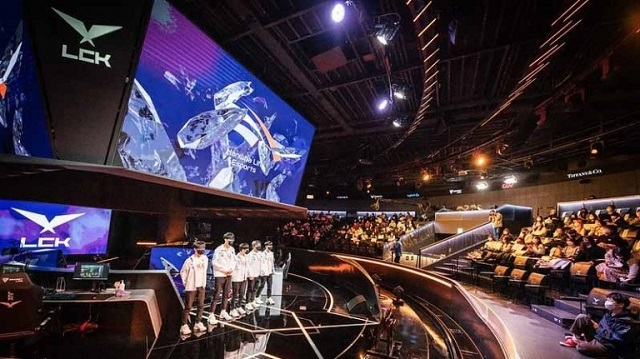 Specific information is as follows:
Week 1 schedule
Day Game time Team 1 Result Team 2 7h00 15h00 KT   HLE 7h00 17h30 DK   LSB 8h00 15h00 KDF   DRX 8h00 17h30 BRO   NS 9h00 15h00 KT   GEN 9h00 17h30 T1   HLE 10h00 13h00 LSB⁠   NS 10h00 15h30 KDF⁠   BRO 11h00 13h00 DRX⁠   DK 11h00 15h30 GEN⁠   T1
Week 2 fixtures
Day Game time Team 1 Result Team 2 14/06 15h00 HLE⁠   DRX 14/06 17h30 GEN⁠   KDF 15/06 15h00 T1⁠   LSB 15/06 17h30 DK   BRO 16/06 15h00 NS⁠   GEN 16/06 17h30 DRX⁠   KT 17/06 13h00 HLE⁠   KDF 17/06 15h30 BRO⁠   T1 18/06 13h00 LSB⁠   KT 18/06 15h30 DK⁠   NS
Week 3 schedule
Day Game time Team 1 Result Team 2 21/06 15h00 LSB⁠   BRO 21/06 17h30 KDF⁠   T1 22/06 15h00 GEN⁠   DRX 22/06 17h30 KT⁠   DK 23/06 15h00 KDF⁠   NS 23/06 17h30 HLE⁠   LSB 24/06 13h00 DK   GEN 24/06 15h30 T1⁠   KT 25/06 13h00 NS⁠   DRX 25/06 15h30 BRO   HLE
Week 4 fixtures
Day Game time Team 1 Result Team 2 28/06 15h00 HLE⁠   DK 28/06 17h30 KT⁠   KDF 29/06 15h00 GEN⁠   BRO 29/06 17h30 DRX   LSB 30/06 15h00 KT⁠   NS 30/06 17h30 T1   DK 01/07 13h00 BRO⁠   DRX 01/07 5h30 LSB   KDF 02/07 13h00 GEN   HLE 02/07 5h30 NS   T1
Week 5 fixtures
Day Game time Team 1 Result Team 2 05/07 15h00 KDF⁠   DK 05/07 17h30 DRX⁠   T1 06/07 15h00 NS   HLE 06/07 17h30 LSB⁠   GEN 07/07 15h00 BRO⁠   KT 07/07 17h30 DK⁠   DRX 08/07 13h00 T1⁠   GEN 08/07 15h30 NS⁠   LSB 09/07 13h00 KT⁠   BRO 09/07 15h30 KDF⁠   HLE
Schedule for week 6
Day Game time Team 1 Result Team 2 12/07 15h00 LSB   DK 12/07 17h30 GEN⁠   NS 13/07 15h00 HLE⁠   KT 13/07 17h30 BRO⁠   KDF 14/07 15h00 T1⁠   NS 14/07 17h30 DRX⁠   GEN 15/07 13h00 KDF⁠   LSB 15/07 15h30 HLE⁠   BRO 16/07 13h00 DK   T1 16/07 15h30 KT⁠   DRX
Week 7 fixtures
Day Game time Team 1 Result Team 2 19/07 15h00 DK⁠   KT 19/07 17h30 LSB⁠   HLE 20/07 15h00 KDF⁠   GEN 20/07 17h30 DRX⁠   NS 21/07 15h00 BRO⁠   DK 21/07 17h30 HLE⁠   T1 22/07 13h00 GEN⁠   KT 22/07 15h30 NS⁠   KDF 23/07 13h00 T1⁠   BRO 23/07 15h30 LSB⁠   DRX
Schedule for week 8
Day Game time Team 1 Result Team 2 26/07 15h00 GEN   LSB 26/07 17h30 KDF⁠   KT 27/07 15h00 T1   DRX 27/07 17h30 HLE⁠   NS 28/07 15h00 DK   KDF 28/07 17h30 BRO⁠   LSB 29/07 13h00 KT⁠   T1 29/07 15h30 DRX⁠   HLE 30/07 13h00 NS⁠   BRO 30/07 15h30 GEN⁠   DK
Schedule for week 9
Day Game time Team 1 Result Team 2 02/08 15h00 T1⁠   KDF 02/08 17h30 NS⁠   DK 03/08 15h00 DRX⁠   BRO 03/08 17h30 HLE⁠   GEN 04/08 15h00 LSB⁠   T1 04/08 17h30 NS   KT 05/08 13h00 DK   HLE 05/08 15h30 BRO⁠   GEN 06/08 13h00 DRX⁠   KDF 06/08 15h30 KT   LSB
Photo: Internet