The HD-2D style was first used in the 2018 title Octopath Traveler, which has since been used in other Square Enix games.
Back in the early days of video games, 2D graphics were the norm and titles were often designed with pixel art and limited color palettes. But as technology evolved, 3D graphics became prominent and most NPTs turned to creating 3D characters and worlds.
However, others recognize the value of 2D graphics and want to give this style a modern makeover. Typically Tomoya Asano (NPT at Square Enix) who brought a new look to their RPG by blending the charms of classic pixel art with cutting-edge graphic engineering – HD-2D style born from here.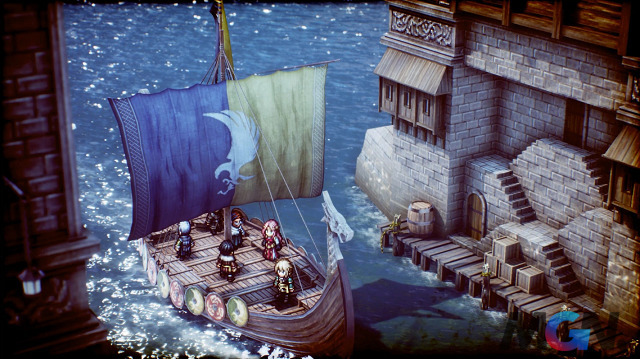 With this approach, Square Enix has achieved the incredible feat of creating games with breathtaking visuals that appear as though they belong in the 'golden era' of 16-bit gaming. In a nutshell, the HD-2D style emerges from the desire to leverage the power of modern hardware and display technology while preserving the nostalgic charm and allure of beloved classic 2D games. prefer.
>> MORE: [HOT] Rockstar Games reveals 'hint' about completing GTA 6
Discover the HD-2D Octopath Traveler series: The perfect blend of nostalgia and modernity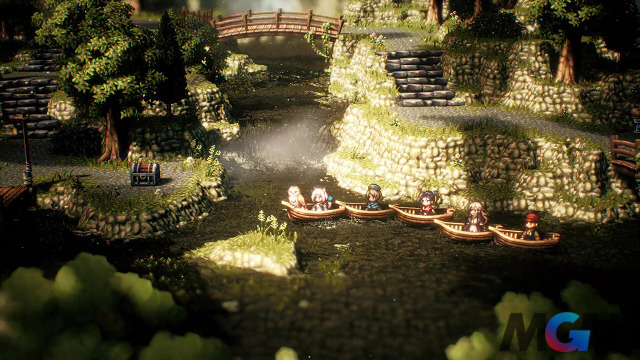 Series Octopath Traveller, co-developed by Square Enix and Acquire as a JRPG, is available now on Nintendo Switch and on PC. The first part was released in 2018 and the sequel in February 2023.
Each installment revolves around a group of 8 main characters, each with their own compelling storylines and unique abilities. In Octopath Traveler, these characters embark on a thrilling journey across Orsterra, a fantasy realm full of danger, magic, and excitement. Meanwhile, Octopath Traveler II opens in the world of Solistia, introducing a more modern setting in contrast to its predecessor.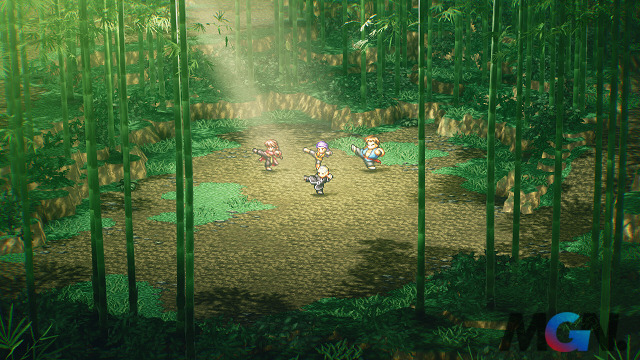 The series uses a turn-based battle system where you can choose to attack with a variety of weapons or elemental abilities, use items, and accumulate up to 5 Boost points for each party member. Boost Points can be used for a turn to amplify the impact of attacks, increase defenses, or raise abilities.
In combat, enemies possess a shield counter, which decreases when attacked with a weapon or element to which they are vulnerable. When the counter reaches 0, a "crash" occurs, leaving enemies stunned, vulnerable to increased damage, and unable to act during their turn. A new addition in Octopath Traveler II is the inclusion of "Hidden Power" into the combat system. These are special moves that can only be used after the corresponding gauge has been accumulated during the battle.
Upon its release in 2018, Octopath Traveler received widespread acclaim from both critics and players alike. The distinctive HD-2D graphic style, engaging storytelling and engaging turn-based combat system were highly appreciated. The game currently holds a respectable score of 83/100 (Switch) on Metacritic. It even received nominations for notable awards, including Best Role Playing Game at The Game Awards 2018.
Octopath Traveler II was also well received, scoring 85/100 (Switch) on Metacritic. While some players expressed concern about the main group's story and the frequent disappearance of characters from key story scenes, others praised the game's improvement over the original. its predecessor. They appreciated how it enhanced the original game's strengths while integrating a number of quality-of-life updates, ultimately cementing its status as an overall superior gaming experience.
Don't forget to follow MGN.vn regularly to update hot news around the domestic and international gaming village!