After suddenly saying goodbye to Ubao – his Mid laner, PSG Talon was also entangled in a big mess.
The story of player contracts in the Esports world of League of Legends is going on very painfully, and the tournament areas are all involved in dramas on this topic in turn. At VCS, a case of Taki and Saigon Buffalo just emerged, the LPL side also closely followed the accusations of 'slave contract' from Xiaohuangren with ThunderTalk Gaming.
The waves of the above problems have not stopped yet, recently, PSG Talon – VCS's brother is also "sticky" with the same drama. A little different is that this team actively fired players, and received a strong wave of protests from the community League of Legends.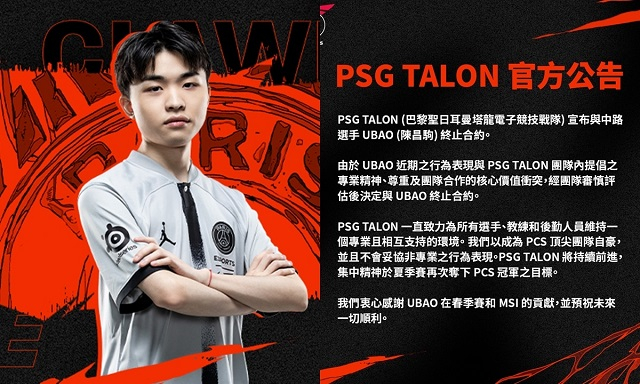 PSG Talon has made the decision to terminate the contract with mid laner Ubao even though the deadline has not been reached – this notice has been updated on the team's official fanpage. After being asked about the reason, the party PSG shared that due to an improper behavior of this player, not showing professionalism and going against the core values ​​of the team, lack of team spirit, he will be fired according to regulations. .
MORE: League of Legends: Top 5 most 'picked' generals in ARAM mode in 13.10
Ubao (formerly Uniboy) is the new face PSG Talon added in early 2023, with this team continuing to win PCS, This guy also contributed a lot. The recent MSI 2023 is also the first time that a player born in 2001 has touched an international tournament. Not satisfied with this decision, of course, The board also quickly had a bold response on his personal page, he completely refuted the above views of the team.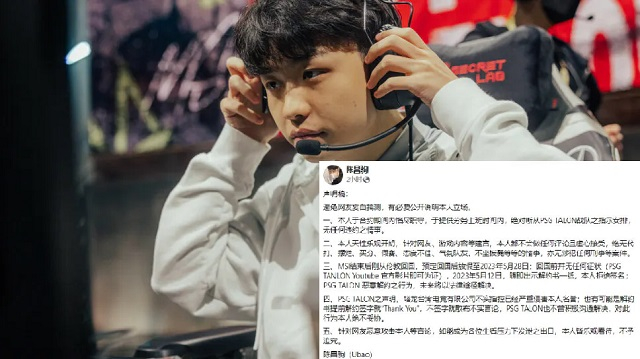 The mid laner firmly stated that he would not sign the contract of dismissal of PSG, he shared that he didn't know what he did to be considered 'undisciplined' because after returning from MSI, he was just enjoying his own vacation. The board Also shared, I can't contact the side PSG to clarify this case, and maybe in the near future he will have to find solutions by legal measures.
Don't forget to follow us every day to keep up with the latest information!