SE had two unscathed victories against rookie MBE, ready to enter the play-off VCS Spring 2023 with a "wish to be chosen" mentality.
SE showed dominance from the first moves and turned the game into one-sided when taking all MBE's mistakes and punished appropriately. Even in the phase when the MBE wants to counterattack, SE does not let the juniors have the advantage when fighting back more fiercely than "eating a ball and paying a gold ball".
The game didn't go by too quickly, but it was clear that the MBE kept losing the counter-opportunity with every passing minute. Minutes 16, the gap of 6k money and SE became more and more enthusiastic, ready to go to the top, change lives, but MBE didn't fit. In the most unfavorable situation, MBE's blood spiked up well enough with SE and exchanged a few lives to remove the gauze.
The brightest point on the MBE side is still ADC Slown with a green KDA in a suppressed game. However, it could not be saved when SE still had better fights and pulled into the MBE main house with full force. 1-0 in the first game for the Red Chicken.
Game 2 was an amazingly proactive game for the VCS rookies. MBE actively attacked and got themselves the first 3 kills with 2 Elemental dragons at 16 minutes. But their problem was still there, they couldn't distance themselves how much money compared to SE. SE only needs 1 kill to get the money advantage.
The inability to separate money puts MBE in a very uncomfortable situation when it is impossible to know what basis to win the next fight. MBE has a lot of lives and dragons but SE has turrets and messengers, if it's about exchange, SE is more profitable, because turrets can't respawn, people can.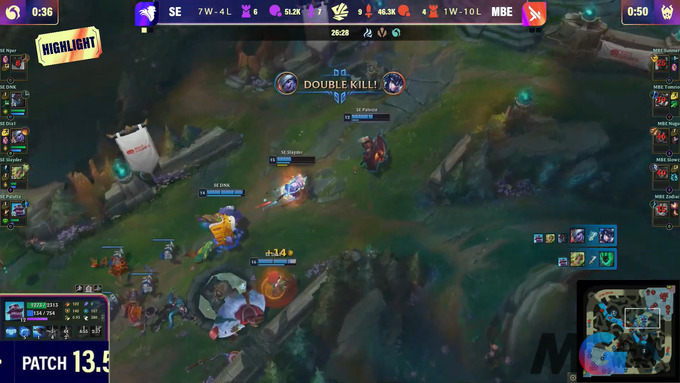 SE only needed to win the fight in the 26th minute to end everything, it was too neat and simple when the MBE was aggressive but didn't accumulate win conditions in the fight. 2-0 for Red Chicken and another lesson for Rookie MBE.
After this victory, SE is more likely to enter the play-off even though the ranking is not high, which means that if SE goes ahead, they will have to accept the selection from the higher ranked team. But the attitude of Red Chicken to this is..