Because it is the title of the "national moba game", Lien Quan Mobile also brings along many types of 'inferior' gamers, making the game environment very 'toxic'.
Undeniably, Vietnam is one of the countries with a huge number of Lien Quan Mobile gamers (besides Taiwan and Thailand servers). But along with that, there is no shortage of players who are less aware when they often use bad behaviors to destroy this game.
Over time, when it comes to Lien Quan Mobile, people get bored because the game environment is too 'toxic', the more genuine gamers, the more they break the game. Even Garena's 'pet chicken' is compared to the 'brother' of the same house, Free Fire.
For those who do not know, toxic is a phrase that describes the part of gamers who are extreme, cannot master their words and often 'hack cheats', 'dirty buffs' that have a heavy impact on the community. common in the game. Toxic does not only exist in Lien Quan Mobile and many other online games are similar.
Discussing why, first of all, Lien Quan Mobile is a 'national moba game', which is free to all players and all audiences, so there are 'big new' components that specialize in 'teasing' teammates. or other players to 'entertain' is very understandable. Common behavior is disrespectful words that cause mental inhibition, using 'hacks' to climb rank despite or illegally loading … causing genuine players to be discouraged and want to quit the game.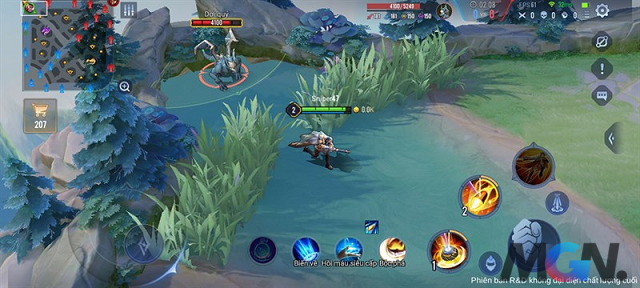 >> MORE: Lien Quan Mobile: Looking back at the horror of the Forbidden Turret auxiliary spell, which is also the reason why Garena wiped it out
Besides, Lien Quan Mobile is considered a rival of a world moba monument – League of Legends, while these two games have different platforms. However, that inadvertently made the gaming community on both sides often "coffee" each other, hate each other and cause unnecessary war.
Some smart players will certainly be interested in this, but most are still toxic to players of the game on the other side of the battlefield. If you regularly surf Tik Tok, you will be no stranger to the LoL Khau Lien Quan Mobile videos and vice versa. Although the number has decreased and is not as much as before.
Finally, despite being a big publisher, Garena's management seems to be ineffective because although the gaming community has complained a lot, the game environment has not been thoroughly purified. There is no denying that Garena has been very strong and tried, but that is not enough for Lien Lien Mobile to be 'fresh', so in the future it is necessary to quickly take more drastic measures to deter bad actors in the future. this game title.
In short, Lien Quan Mobile is really a good game and the 'boom' way is still very long, hopefully, Garena will soon adjust so that true gamers can play the game more comfortably and happily. .
The latest and most interesting information about Arena of valor will be continuously updated and reported by MGN.vn every day. Follow us often so you don't miss out!