Each champion in League of Legends has a different characteristic based on each zodiac sign, so which champion will you be based on your sign?
Aries (March 21 – April 19) — Samira
True to the nature of Aries, they are bold people, have great ambitions and do not hesitate to face life's challenges. Samira Converging all these factors, she has outstanding strength and always rushes into chaotic combat to win.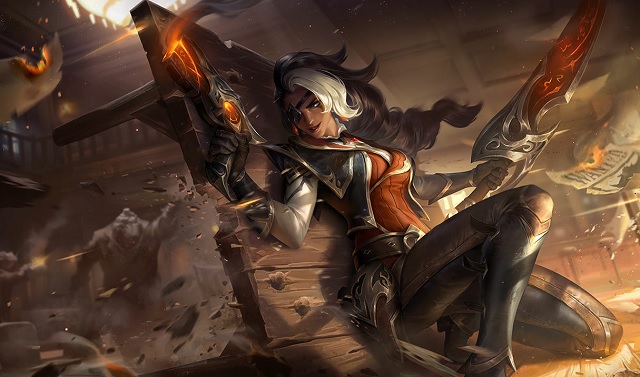 Samira always take advantage of their strengths to promote, do not hesitate any difficulties. True to her saying in League of Legends: "Life is too short, either shoot or lose."
Taurus (April 20 – May 20) — Taric
In this sign, individuals tend to love beauty, care a lot about material things, they also have their own innate charm. Valorant's Shield – Taric is an example of this. Taric always protect what is beautiful, in accordance with the standards to enjoy the pleasures in life.
Gemini (May 21 – June 20) — Zoe
Gemini has a very erratic personality, is curious about the world and is always eager to express his ideas. Zoe is the embodiment of these traits because she is a careless rebellious child who always dances to the rhythm of life.
SEE ALSO: Top 5 games similar to League of Legends that you should experience
Cancer (June 21 – July 22) — Soraka
The crabs born from the water sign are usually very caring, caring for others, always enjoying life and never complaining.
This is extremely suitable for Soraka – the champion with extreme benevolence in League of Legends. She has vowed to give up her celestial form to take on a body of flesh and blood in an attempt to heal, guide, and protect mortals lost in the chaos of heaven. Soraka's catchphrase has always been "Don't confuse compassion with weakness."
Leo (July 23 – August 22) — Draven
The Leo characters are very delicate and sociable, they are extremely confident people, always becoming the center of attention in the crowd, making others admire. And in League of Legends, which champion 'lives' because of the cheers of the crowd? None other than Draven himself.
Draven lives a high life in Noxus, his reputation in the area is outstanding, but Draven still wants to become more famous, he wishes one day the whole world will know his name as his saying "Welcome to the Draven Alliance."
Virgo (August 23 – September 22) — Camille
Virgo is extremely practical, calculating and meticulous in everything. Always pay attention to others meticulously so as not to offend anyone. And Camille is the embodiment of that, this champion is always very focused in performing technical activities. She thinks that the works done carelessly will bring a loss of face to her clan. "The difference between a butcher and a surgeon is precision," she asserts.
Libra (September 23 – October 22) — Kayle
Coming to Libra, we always know peaceful characters with extremely fair personality. Harmonious balance is definitely the principle of champion Kayle in League of Legends, which is most clearly illustrated when she always fights for justice, has a strong sense of judgment and belief in law and order. .
Scorpio (October 23 – November 21) — Swain
Scorpios are people with a natural mysterious charm, with an insatiable curiosity to know all the secrets of the world, not only that, but they also have great determination. This is true of the image of a Noxus General like Swain.
Sagittarius (November 22 – December 21) — Ezreal
Sagittarius are people with a very liberal personality, they always like to travel everywhere, so they try to work just to be able to travel, to places with truth and knowledge, to satisfy satisfy his zeal for adventure.
Of course, this trait is no one more suitable than the Adventurer – Ezreal, this guy is the embodiment of the Sagittarius spirit. Ezreal's journey has never stopped and will continue into the future.
Capricorn (December 22 – January 19) — Renata
Patience, perseverance and dedication to the business of life are characteristics of Capricorn people. The Marquis Renata Glasc is an example of this. Even when fighting, she has to put on a luxurious business suit and constantly fight for her ideals.
Aquarius (January 20 – February 18) — Viktor
Aquarius are usually extremely intelligent people, very emotional and have a free spirit. Viktor – The Machine Messenger is a character with an Aquarius inclination, he always wants the world to become a better place, helping humanity step out of outdated lives and into a technological age. .
Pisces (February 19 – March 20) — Nami
Finally, Pisces, characters who always carry deep empathy and compassion, have a gentle disposition and always make sacrifices for others. Nami is the character that carries the soul of Pisces, Nami's kindness and selflessness helped her save her tribe.
Don't forget to follow MGN.vn to update new information about League of Legends nha.