Graduation stat is the bare minimum for a character to perform well, but the 'world' stat will help the character create an unbelievable amount of damage for you.
For Genshin Impact players, trying to build a nice set of stats for their character is one of their ultimate goals. However, this life will not always please them as well as the holy relic will have the desired set of stats. Therefore, almost when starting to build a character, what the player needs is to try to get that character to achieve the 'graduation' set of stats that is enough for them to be able to pass all the content of the game. play. However, not everyone will accept their character to stop there.
In fact, HoYoverse does not have any official definition for ranking characters based on individual stats. Usually, people will compare the set of stats with each other to calculate the amount of damage that a character can create. There are two values ​​that are most interested by players, the rate of attack and damage, which are collectively known as the Crit Value. This stat will help the player amplify the damage many times so it is often used as a benchmark to decide if a character has reached the 'graduate' or 'world' threshold. And the Akasha System website has used this criterion to establish the ranking of the best set of indicators.
And so, we have a leaderboard where there are 'people's children' characters that you can farm for a whole year and not be like that. For example, in this ranking, it is easy to see a familiar character, Xingqiu, with an absolute set of 100% attack rate, 200% attack damage, equivalent to 400 points of brute force. .
This ranking is a general ranking that only counts for stats, not for each specific character. Through that, players are even more 'admired' at their investment of time and luck. Specifically, we have: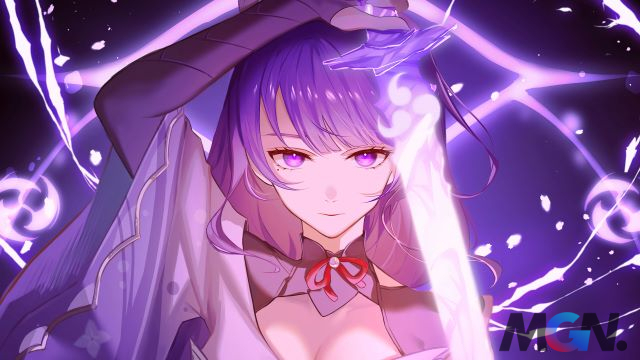 – Raiden Shogun has a 'dreamlike' set of stats of 67.6% attack rate and 211.7% shock damage with just the Fish spear weapon. Imagine when out there you are still struggling to balance the Raiden Shogun with a decent set of stats, here there is a player who owns a relic for Thunder God with 286.9 attack value.
– A certain player's maid Noelle possesses the stats of 71.5% attack rate and 203.1% shock damage with the weapon Proud Sky. This means that this player's Noelle will have 286 riot value in their relic.
– A certain player's Eula has 63.7% attack chance and 354.6% shock damage when using Red Horned Stone Blade. This is indeed an almost unbelievable number because even if you remove the Red Horn Breaker, this player's Eula still has about 266.4 damage, which is a number that many players have to try very hard. try to get it.
– A 'whale' player decided to go his own way when he built the girl Qiqi C6 with the weapon Night Light Mist. Currently, her stats are at 83.2% attack rate and 225.5 damage damage.
>> MORE: Genshin Impact: A complete real-life TCG deck has appeared
– A real Keqing main equipped her with the Blade of the End weapon, and as a result, the attack rate has surpassed the guaranteed threshold, up to 141.3%. Even with such a high rate, the shock damage is still guaranteed when the number stops at 192.3%.
– Hu Tao of a certain Chinese mage has 88.6% attack rate and 219.7% attack damage. It is worth mentioning that this Hu Tao is using the Dragon's Calamity weapon, not the Ma Scepter, so if he had a weapon to send him, this Hu Tao would have been much more terrifying.
– Another player tried to mold a very nice set of stats for Xinyan when this stat fell to 71.5% attack rate and 304.5% destructive damage with the weapon of Red Giac Breaking Thach Dao. This is not a number that everyone can do, especially trying for a character that doesn't really stand out in the current game meta.
– Zhongli is one of the most frequently tested characters for nuke and for that, guaranteed stats are a must. A player has drawn a set of stats for Zhongli with a destructive value of up to 301.7 points, namely 85.9% attack rate and 256.1% attack damage.
Don't forget to follow MGN.vn to update the latest news about Genshin Impact right now!