To be able to upgrade the cards in the Seven Saints Summoning, players are forced to challenge the NPCs, so owning a multi-purpose deck is essential.
The Seven Saints Summoned not only stormed throughout Teyvat, but also successfully captured the attention of Genshin Impact players. So far, this new game mode has not disappointed and fans are expecting further improvement in the future. The most frustrating aspect of the current system is that content is limited over time. The only way players can level up is by waiting for their weekly guest challenges, which means it will take several weeks to max level.
In addition to guest challenges, players can also find NPCs to challenge in Seven Saint Summoning mode. These NPCs sometimes have a normal character card, while others have a common enemy card that cannot be obtained, such as Hilichurl. Since cards like Hilichurl have low HP, characters that deal large single-target damage will easily finish them off but will take more time to finish the match. Instead, players may want to try the following PVE-specific Seven Saints Summon lineups.
3. Penetration damage formation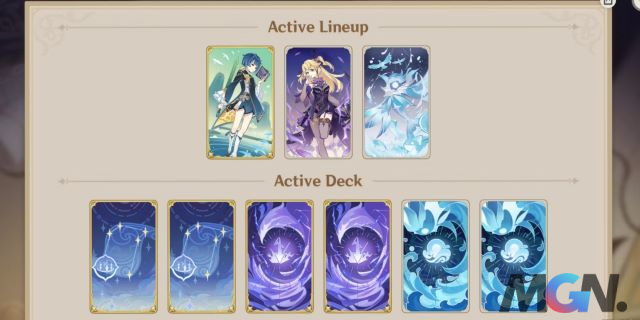 Most PVE challenges involve the player battling NPCs with enemy community cards. These cards usually have low HP, which means players can take advantage of cards that deal AoE damage to end the game quickly. To do this, the Traveler must include cards that can deal Penetration damage.
Penetration Damage is a type of damage that occurs when the player deals AoE damage through reactions such as Inductance and Superconductivity, or through certain character skills. Unlike normal damage, penetrating damage cannot be blocked or supported, which means shields are useless against it, but penetration damage is also not enhanced by cool weapons. other equipment cards.
In addition to Penetration damage, Diffusion is also a form of AoE damage. However, if Penetration damage cannot be blocked and is not considered to be of any element, Diffusion will deal elemental damage depending on the element it comes into contact with. Diffuse damage can also be blocked normally.
In normal play, AoE damage can be slow, but in a PVE match with low HP cards, they can easily finish off multiple enemies at once to end the match. This is most obvious considering the fact that AoE damage applies to all characters on the field. This means that if there are four cards, then one of them will take main damage, while the other three will take AoE damage. This gives less damage advantage over single target hitters but is effective against groups of enemies with low HP.
Some of the Nominee Penetration damage squads:
– Ganyu + Keqing + Sucrose
– Xingqiu + Fischl + Spirit of Clear Water – Rhodeia
– Kaeya + Keqing + Fischl
2. Anemo for Shields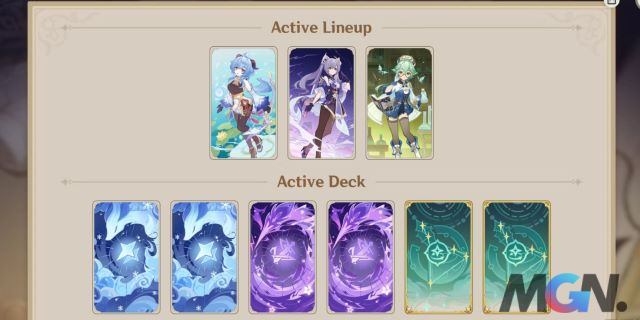 One of the hardest NPC cards to fight are the Abyss Mage cards and other cards with elemental shields. To remove these shields, the player must use elements that react with them. Unlike in regular gameplay where a certain element depletes the shield faster than the other, all elemental reactions in Genshin Impact Genius Invokation TCG reduce shields at the same rate. .
For example, if the Fire Abyss Mage's Fire shield is attacked by the Water type, it will lose one shield point. Similarly, if the shield is hit by an Ice element, it will also lose one shield point. The only exception here is with the King of the Helmets Hilichurl. Any damage the Stone Hat King deals will reduce its armor by one point, but the Rock elemental will reduce it by two.
>> MORE: Genshin Impact: 5 Playable Characters Toukabou Shigure
Sometimes an NPC will bring up a deck with three Abyssal Wizards at once; Fire, Water and Ice versions. If the player chooses to destroy each shield, it will take a long time and may cause them to lose one of their challenge targets.
Therefore, the best way to fight the Abyssal Mage in the Seven Saints Summoning is to use Wind cards. Wind elemental damage is reduced by one point from the target's shield, then Diffusion damage is reduced by one point from the other cards.
Some of the nominated lineups:
-Ganyu + Keqing + Sucrose
– Maguu Kenki + Spirit of Clear Water – Rhodeia + Fischl
-Xingqiu + Chongyun + Jean
1. 'Wolf's Dead End'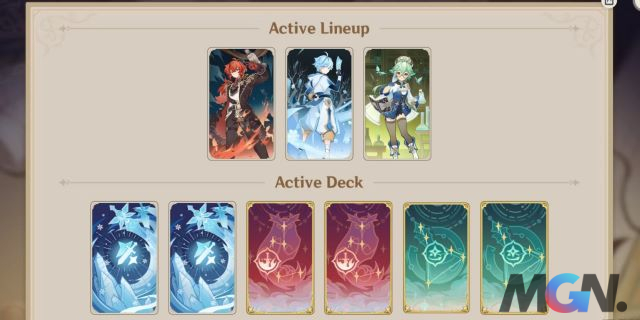 Since small cards like Slime, Hilichurl, Nobushi, etc have low HP (six or less), Wolf's Dead can be used to one-shot them. This cool Weapon card will provide +2 extra damage if the target has six HP or less, in addition to the +1 damage available from the weapon. This means that a basic attack will now deal a whopping 5 damage instead of 2. This number will help one-shot cards like Slime and Hilichurl while leaving Nobushi with 1 HP left.
Nominee lineup:
– Kaeya + Noelle + Ningguang
-Diluc + Chongyun + Sucrose
– Keqing + Chongyun + Razor
Don't forget to follow MGN.vn to update the latest news about Genshin Impact right now!