Data from the Genshin Impact 3.3 beta test has revealed information about two new weapons that will be added to this version, including the town of the Wanderer.
The Genshin Impact 3.3 beta test server started on November 2nd and the first leaked images and information has already begun. In addition to the new characters that will join the version including the Wanderer and Faruzan, other new information such as weapons and holy relics is also something that many players are very interested in. However, Travelers should note that information about these weapons and relics may change after their official release at HoYoverse's discretion.
New weapon in Genshin Impact version 3.3
In this version, the game will release two new weapons, including a 5-star weapon and a 4-star weapon. According to the leakers, this 5-star weapon will be the "town" of the Wanderer, while the 4-star weapon will be free in an event at session 3.3 Genshin Impact.
The 5-star weapon of this version 3.3 will be a magic weapon shaped like a bell. With a High Base Attack stat, the extra stat increases the Critical Damage extremely valuable and the weapon's effect buffs normal attacks.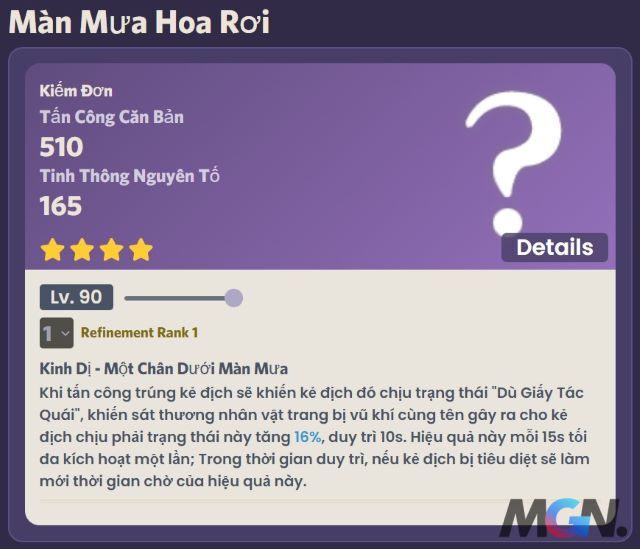 The 4 star weapon of version 3.3 Genshin Impact is a single sword with a shape inspired by Kasakasa-Kozou, a famous Japanese yokai whose appearance is an umbrella with one eye, a hideous mouth with a hilt. Umbrella is a leg. This single sword will increase Elemental Mastery at the secondary stat, the effect will carve a debuff on enemies after they take any attack from the equipped person and this debuff will cause them to take extra damage.
>> MORE: Genshin Impact 3.2: Instantly update the latest 60 Primeval Code code
The leakers mentioned that this weapon is a free item of the event and its design is inspired by the famous Japanese yokai so it is very likely that the event to receive this weapon will be an event in Inazuma. In addition, some players, after considering the weapon's stats and effects, did not hesitate to declare that this is definitely another new weapon dedicated to Kaedehara Kazuha and Kuki Shinobu.
New holy relic of Genshin Impact version 3.3
Version 3.3 of the game also added two new Holy Relics. Both of these holy relics will probably be in the same secret scene, most likely it will be a secret place somewhere in the Sumeru desert area when considering the shape of these two holy relics has a set of designs. look similar to the Primordial Texture enemies in the game.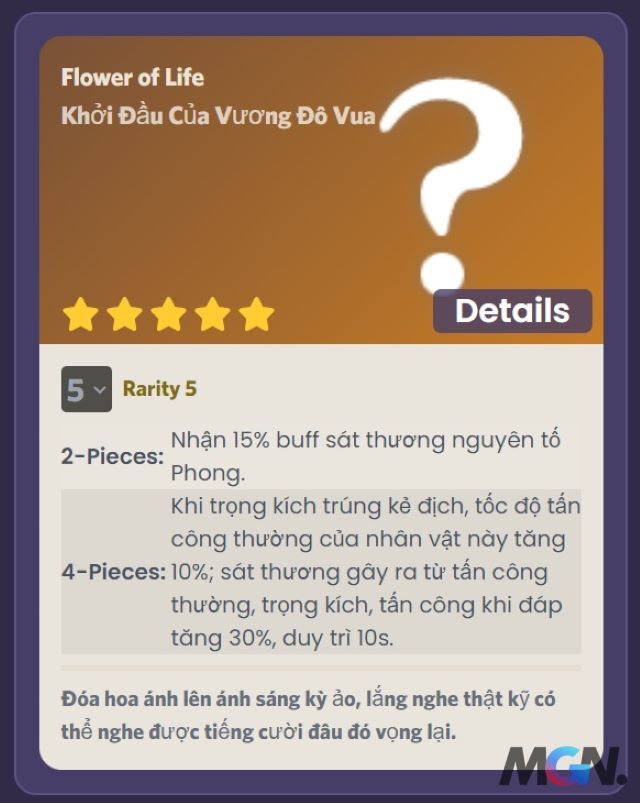 The first holy relic, roughly translated as the Chronicle of the Desert Royal Capital (Desert Pavilion Chronicle). This set of holy relics will increase Wind elemental damage in set 2 and increase damage for normal attacks in set 4. This will definitely be the most suitable set of relics for the Wanderer.
The second holy relic of version 3.3 Genshin Impact is roughly translated as Flower of Paradise Lost. This relic will increase Elemental Mastery by 80 in set 2 and increase all damage related to the Sumerian reaction. Many players have stated that this is clearly a holy relic dedicated to Nilou when at the time of her debut, Nilou did not have any 4 set options for her.
Don't forget to follow MGN.vn to update the latest news about Genshin Impact right now!