There are only a few hours left before the Kamisato Ayato and Raiden Shogun rerun banners officially open, so is it worth investing to get this landlord guy?
Kamisato Ayato will return for the second banner phase of Genshin Impact 3.3. This will be his first rerun since release and he will be sharing his banner with Thunder God, Raiden Shogun. Ever since his rerun banner was announced, all the fans who didn't have him in the last banner period have been excited as now the chance to own Kamisato Ayato has returned.
However, there are some new fans debating whether or not they should take Ayato as they are unsure if he is still valid in Genshin Impact 3.3.
The first thing every Genshin Impact player will want to know is how strong Ayato is and what he can bring to a squad. The head of the Kamisato clan is a 5-star Water-type single-sword wielder who can act as both primary and secondary DPS.
Ayato's water seal ability is definitely one of the best in the game. He can also fit into many different lineups, such as the Freeze lineup (with Ganyu or Ayaka), the Evaporation lineup (with Bennett and Xiangling), and also the new Sumer squad. The Water element was already a very powerful element before the launch of Sumeru, but with the addition of the new Thao elemental reactions, every player should have a strong Water element in both damage and support roles in the game. their squad.
Kamisato Ayato is also an easy-to-use character. As a field DPS, he can deal massive area damage with his Elemental Skills and can repeatedly carve the Water seal to trigger various reactions. His Elemental Skill increases his resistance to interruptions, but larger enemies can still deal heavy damage to him if he doesn't dodge.
Ayato's Rage Skill creates a large area with a 20 second cooldown, periodically dealing Water elemental damage to enemies within it. His Rage Skill stays active for 18 seconds, one of the longest Rage Skill durations in Genshin Impact, but it consumes up to 80 mana. His passive genius, Michiyuku Hagetsu, generates 2 mana per second if Kamisato Ayato's total mana is less than 40 and he must be off the field.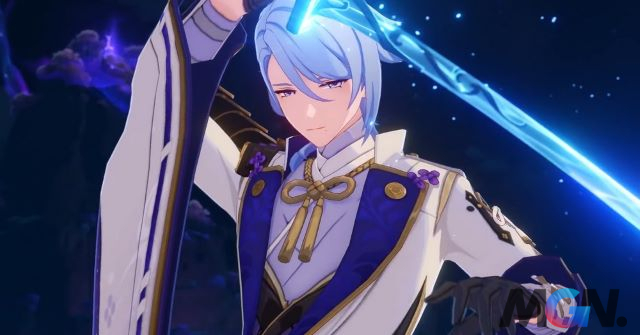 Players will benefit from having Ayato in their squad as he is still a very strong Water-type character. He's also easy to build and versatile enough to fit in a variety of squads. Kamisato Ayato is not a high investment character, as he can still work well with a variety of weapons and formations without having to have a high Bow or a premium squad to support.
>> MORE: Genshin Impact: 5 best 'comrades' to have for the Wanderer
There really aren't many reasons why a player shouldn't roll him. However, they should note that although Kamisato Ayato is one of the best Water-type characters in Genshin Impact, he is not a must-have character as he has a lot of competition in the game. . Characters like Childe, Kokomi, and Yelan can all take on similar roles in the group. If the player already has any of these characters, they can choose to skip Ayato.
Don't forget to follow MGN.vn to update the latest news about Genshin Impact right now!