The Genshin Impact 3.3 beta test server has had a few changes taking place, along with the relic of the Wanderer and Nilou will receive buffs and nerfs respectively.
The arrival of the upcoming Genshin Impact 3.3 update is drawing closer every day as players prepare for the game's newest characters along with rerun banners. Thanks to many leaks from many sources, the community is well aware of the upcoming content and is very excited. One of the notable additions in the next update will be the Wanderer, a new Wind mainstay DPS along with super support for the Wind DPS, Faruzan.
HoYoverse is currently continuing to tweak the kits of the Wanderer, Faruzan, and related new relic sets in the Genshin Impact 3.3 beta test server. Previously, datamines and leakers have released information about his kit with Faruzan and other information of the version such as weapons, relics, … and now they will all receive changes. change.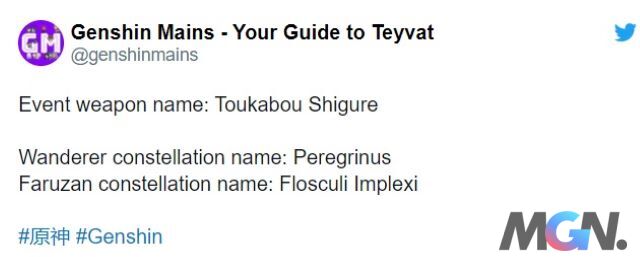 First, the edit will start with the name of the 4-star weapon obtained through this version's events. This weapon was originally called the Rain of Flowers, and has since been renamed Toukabou Shigure. The name change is also applied to the Zodiac Sign of the Wanderer and Faruzan.
>> MORE: Genshin Impact: Delighted with the new super-reactive squad combo
The Tramp weapon of the Wanderer will have a slight change in its name from Memories of Tullaytullah to Memories of Tulaytullah. In addition, the duration of the weapon's effect will also be increased from 12 seconds to 14 seconds.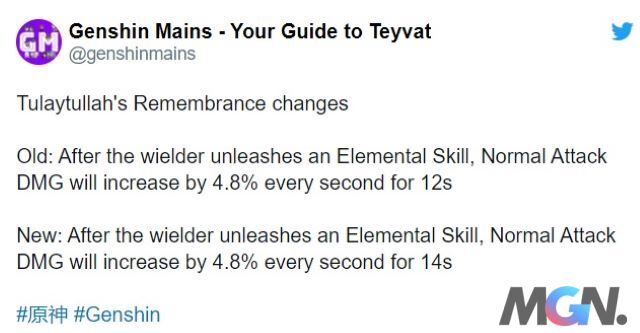 Next, the 4th floor of the Wanderer will also receive a buff that changes from 2 floors to 3 floors that can exist at the same time. In addition, the damage of Tramp's basic attacks will be slightly reduced.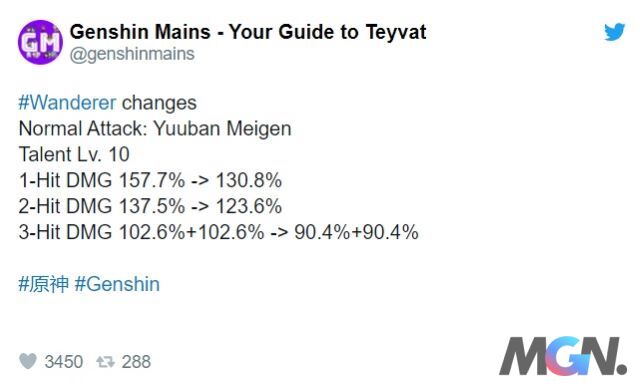 Most notably, perhaps the holy relic Desert Pavilion Chronicle will receive a powerful buff, which will increase normal attack damage, weight and attack when landing by 40% within 15 seconds instead of 30 % within 10 seconds as before. This must be a very significant buff for the Wanderer overall.
Meanwhile, the holy relic that is said to be part of the Nilou Bloom team will receive a nerf. Specifically, the damage from the Sum Up, Exploding and Blooming reactions will be reduced to 40% instead of the original 50%.
Don't forget to follow MGN.vn to update the latest news about Genshin Impact right now!