The Honkai Star Rail community is eagerly waiting for more information about the new Jingliu character that is expected to be released soon in the upcoming 1.4 version.
Although Jingliu was not an officially introduced character in Honkai Star Rail at the time, her appearance in Jing Yuan's short animation attracted the attention of many players. This has also led most gamers to start learning about her story, as well as being more curious as to if she could become a playable character, and if so, her skill set. How will.
Jingliu's skill set
The effectiveness of Jingliu's attacks will depend on accumulating multiple stacks, which the player will pay with her own and her allies' HP. Through this method, Jingliu's skill set is expected to be able to amplify damage along with two different fighting styles.
The following points briefly explain each of Jingliu's abilities:
– Basic Attack: Deals Ice damage based on Attack stat.
– Skill 1: Deal damage to 1 enemy and receive the buff "New Moon".
– Skill 2: Deal damage to multiple enemies by consuming stacks of "Moonlight".
– Ultimate: Deals damage to multiple enemies. Gain "Moonlight" stacks in Transcendent Status. Get "New Moon" in normal state.
– Thien Phu: There are four stacks of the "New Moon" buff that allows Jingliu to enter Transcendental State, which also sacrifices her and her allies' HP to increase ATK.
Here, the "New Moon" buff turns into "Moonlight", allowing Jingliu to gain a new skill (Skill 2). Jingliu will exit the state when "Moonlight" returns to 0.
– Secret Skill: Jingliu gains two stacks of "New Moon" upon entering the battle.
>> MORE: Honkai Star Rail: Who is HuoHuo and what role will he play in the lineup?
Release date of Jingliu in Honkai Star Rail
Many sources believe that Jingliu will be a 5-star Ice-type character associated with the destiny of Destruction. As a result, her skill set will likely revolve around dealing damage to enemies while still ensuring her survivability in battle.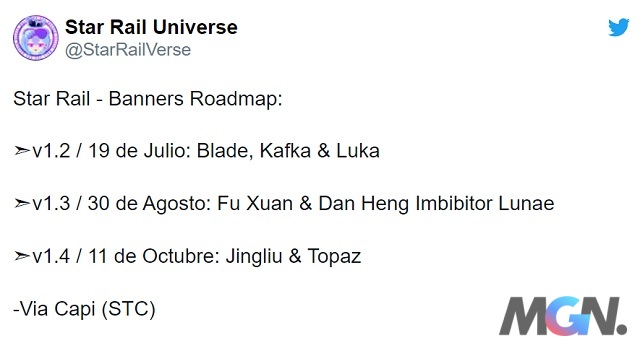 Jingliu is scheduled to be released in version 1.4 coming out on October 11, 2023. Another character named Topaz has also been revealed, slated to debut alongside Jingliu. Although it is rumored that she will release in Honkai Star Rail 1.4 alongside Topaz, the release order is currently unknown.
Don't forget to follow MGN.vn to update the latest news about Honkai Star Rail now!