These are considered 'soldier equipment' exclusively for TOP lane players in Mobile Alliance season 24.
Lien Quan Mobile season 24 is witnessing the rise of the tough Gladiator class, so in this meta, TOP is more popular than ever.
So how can a person who goes to TOP promote his full strength? Let's learn about the indispensable equipment in this position for each champion with MGN.vn!
>> MORE: Lien Quan Mobile: 'Study' on standard jungle equipment for each champion
Twin Blades Storm – Allain
Twin Blades Storm is considered a national item that most champions using physical damage can aim for. In this season 24, Allain will be the fusion solo champion to use this item thanks to 35% attack speed and other useful parameters.
Holy Sword – Kil'Groth
Although Kil'Groth is not a champion often used in solo lane, if going solo, it is not too bad compared to other cards. In the case of taking Kil'groth to the Top, then Holy Sword is an indispensable item because it gives the champion a huge amount of life-only rate, which helps a lot for Kil'groth in combat.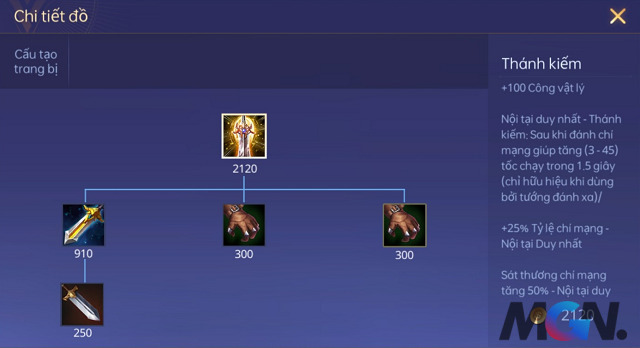 Spear of Longinus – Amily
Amily is a very strong Gladiator general of Lien Quan Mobile, able to go to the lane with a lot of matches thanks to her healing ability, endurance and huge amount of damage. When combined with the item Longinus Spear will help her reduce the opponent's armor, thereby helping Amily's kicks deal more damage and the item also gives her a faster cooldown.
Above are the indispensable equipment when playing the above generals in Ta Than solo position in Lien Quan Mobile season 24. Hopefully the article will help gamers have more confidence to bring back many victories in the future. future.
Don't forget to follow MGN.vn so you don't miss any interesting articles about Arena of valor Please.