Layla is a 4-star character in Genshin Impact, possessing a skill set with a tendency to support so building Layla will be relatively simple.
Layla returned to gamers on the banner in the first phase of version 3.6 of Genshin Impact. She is a 4-star character from Sumeru, known for her sturdy shields and her ability to grant Ice Seal in the field. Players who already own her may wonder if she's a worthwhile addition to their rosters.
This article MGN will suggest you different play styles of Layla as well as recommend the best weapons and relics to use to give her optimal performance. In addition, MGN will also talk a bit about Layla's value in the game at the moment and whether to invest in her or not.
Layla is the latest 4-star Ice-type character to join the game in the Genshin Impact 3.2 banner. She is a support character that can give you a powerful shield capable of generating energy and dealing damage to you even when she is out in the field. Layla recently returned to the banner in the latest 3.6 update and will have an increased rollout probability until May 2, 2023.
In the current version, Layla's best building directions are divided into two categories:
– Pure support
– More comprehensive support
With pure support build only maxing her max %HP to strengthen her shield. While acting as a more comprehensive support, Layla still provides the ability to protect allies while still being able to provide an additional amount of damage and also an elemental seal. However, considering Layla's low personal damage even with C6, the value of this build is really not worth the investment. Keep in mind that if Layla's shield is broken, she will no longer create Flying Stars, thereby losing a significant source of damage as well as the number of energy particles they can generate.
Depending on Layla's construction, the player can use the following holy relic options:
– Set of 4 Strong Thien Nham
– Set of 4 Heroes of the Ice
– Set of 4 Ancient Rituals
– Set of 4 Separation Marks
– Mixer of %HP and Ancient Seven Rites/Hero of the Ice/Seal of Separation
When it comes to building stronger shields, the Strong Thousand Flames set will be the best choice. This set not only provides an extra %HP that not only increases the durability of Layla's shield, but also increases ATK for nearby party members. However, if you choose the set of Ancient Seven Deadly Ritual to optimize damage and buffs for the whole team.
Here is a list of the best weapons that Layla can wield in Genshin Impact:
Khaj-Nisut Key (HP%)
Smashing Table (High Rate of Rage, %HP added to the effect)
Sacrificial Sword (Elemental Loading Effect)
West Wind Sword (Elemental Loading Effect)
The Khaj-Nisut Key and the End Table are the best choices for Layla. Both 5-star weapons provide an extra %HP to help her create stronger shields for party members. Finally, Sacrificial Sword and Western Wind Sword are good choices for Layla to create additional particles for the team.
>> MORE: Genshin Impact gamer designed his own unique Ayaka sneaker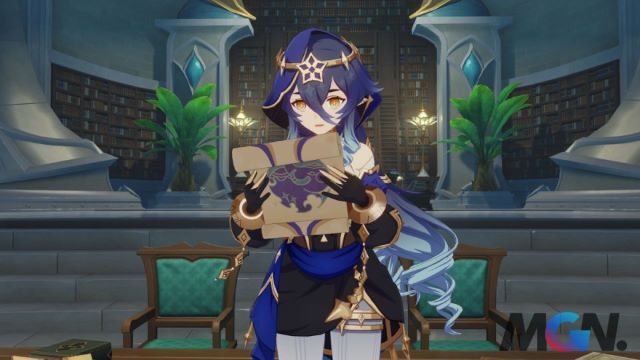 Layla is a strong draw in Genshin Impact if the player needs a shield or Ice level support off the field. Despite her insignificant amount of damage, she can still become a valuable asset to many teams if invested enough.
Don't forget to follow MGN.vn to update the latest news about Genshin Impact right now!