The event weapon in Genshin Impact 3.7 could be a good choice for characters that use heavy attacks and interact with Elemental Mastery.
The main event of the Genshin Impact version will give gamers a new free event weapon called the Piercing Stork Mine. This is a 4-star weapon and gamers can easily refine it to the highest level by participating in the in-game event in version 3.7. However, many gamers will be curious to know which characters this weapon will have in Genshin Impact.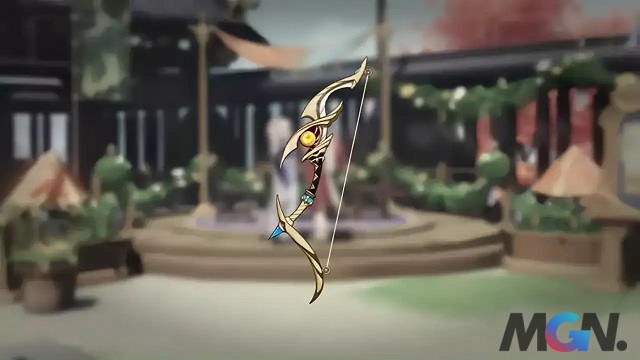 First, you need to know the stats of this weapon to be able to visualize how the weapon's effects will deliver, thereby assessing if it has the potential to be used. Specifically, Co Xuyen Tham Mine will have the following information and indicators:
– Weapon: Bow
– Main Stat: 565 Base Attack
– Secondary stat: 27.6% Attack
– Effect at the level of Refinement 1: For 6 seconds after the heavy hit hits an enemy, the character's Elemental Mastery increases by 40 points. This effect can stack up to 2 floors, maximum once every 0.5s.
With its high attack stats and unique weapon effects, the Piercing Stork will be very useful to amplify and increase the damage of elemental reactions in Genshin Impact. In this article, MGN will suggest you 3 characters who can make good use of this Peacock Piercing weapon in the game.
1. Tighnari
Tighnari is a character that uses the 5-star bow and carries the element of Thao in Genshin Impact. He acts as a quick swap DPS and as a support in Growth squads. Tighnari's kit gives him a boost in damage based on his Elemental Mastery stat and his gameplay revolves around heavy attacks. Therefore, Tighnari must be the best candidate to use this weapon in Genshin Impact.
2. Melting Ganyu
Ganyu can equip the Piercing Stork to take advantage of its stats and effects when used in Melting teams. In Genshin Impact, amplified reactions like Melting can deal massive amounts of damage when the character triggering this reaction has a significant amount of Elemental Mastery so with Melting gameplay, Ganyu will definitely be the one. the second best candidate to use this weapon.
>> MORE: Genshin Impact introduces Yae Miko and Yoimiya banners for 3.7
3. Fischl Enhancement
Fischl is a very cool 4-star character in Genshin Impact, she excels in off-field damage and can deal massive damage to single-targeted enemies. With the introduction of Thao elemental reactions, Fischl has been elevated to the status of a strong DPS character for Boost and Bloom reaction lineups.
Don't forget to follow MGN.vn to update the latest news about Genshin Impact right now!