According to many sources about Genshin Impact, the plot at Fontaine will revolve around issues ranging from major conflicts in society to environmental pollution.
The plot at Mondstadt, Genshin Impact gamers will help Phong Than and the people here resolve misunderstandings and heal Dvalin. When they arrive in Liyue, they will have to participate in the Fairy Tale of the Immortals and then, together with the people as well as the Yan God, come to the big turning point of self-development, no longer subject to the control and protection of the fairies. multiply again. The player's journey to Inazuma will open up to them what is happening in this land, and together with the people here solve the problems between them and their god and then to Sumeru, the game. The player will have to work with the characters to rescue the Thao God Nahida as well as eliminate the factors that are corrupting the power apparatus in Sumeru.
The journey of the Travelers in Genshin Impact continues and this time they will head to Fontaine, which is protected by the Water God, also known as the God of Justice. There has been a lot of information about this god's ideal, roughly like the current Justice of the Water God is not Justice for everyone, it is only Justice for the strong. Or as in the game's Chapter Teyvat video, the Water God is described as a god who loves to joke around on his court, and always yearns to judge all, including other gods.
From this information, many gamers have begun to predict what might happen at Fontaine. And recently, leaker vississ has revealed some information about the plot in Thuy Quoc. According to the source, Fontaine is having extremely sharp conflicts, mainly between the ruling class and the low-minded people. In addition, the gap between rich and poor in this place is also extremely large and environmental pollution is also one of the prominent problems in Fontaine. Thus, it is not difficult for us to make connections and inferences based on this information.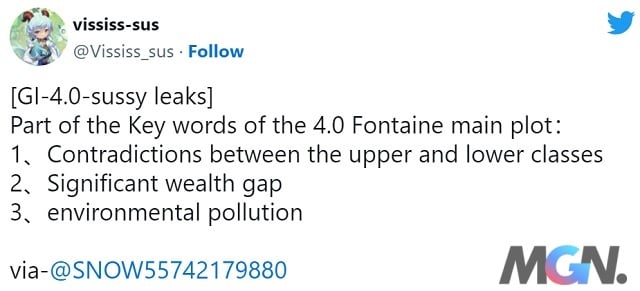 For example, class contradictions and differences are understandable when the current God of Justice's ideal is said to be Justice for the strong. Regarding environmental pollution, this can be said to be a consequence of accelerating technological and technical development, which is inherently a painful problem in the real world when the development of the world The world is moving forward too fast. As such, it can be seen that the plot in Fontaine is likely to be one of the favorite storylines of many gamers when it is closer to the real world than ever. Likely, the World Missions here will also require gamers to clean up garbage and polluted waste, thereby purifying areas and water sources in this country.
>> MORE: Gamers manually designed 6 real-scale Genshin Impact models
Don't forget to follow MGN.vn to update the latest news about Genshin Impact right now!