After releasing the mid-range update of Ivern, Riot received a lot of mixed reactions from the League of Legends gaming community, causing the initial plan to fail.
In the roadmap to update and develop champions in the upcoming mid-season versions of League of Legends, there are three names that will receive mid-range skill updates: Neeko, Rell and the God of Friendly Ivern. Neeko's rework launched first and was quite successful, the player community got a lot of inspiration and tactics from the new skill set of Neeko. The Enthusiastic Master of Transformation This.
Rell and Ivern were also revealed the upcoming basic updates, Rell promises to make a potential comeback through this change of clothes, Riot also plans to turn her into a jungle champion in the near future.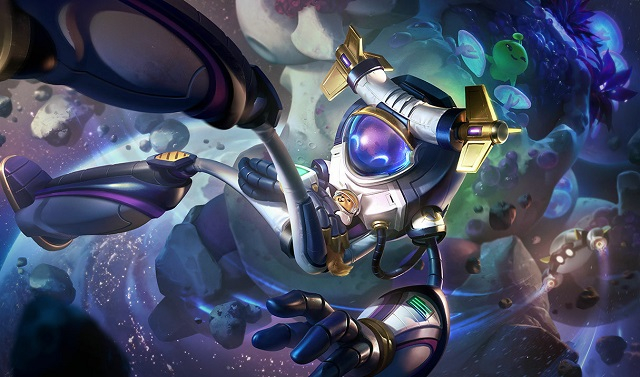 However, when it came to the project plan of Ivern's skill set on the PBE server, the player sadly shook his head. They felt that there were a lot of things wrong with the rework of this champion and thought that Riot "fixed it like it didn't fix". He was simply modified in terms of stats, the skill set was nothing new at all.
SEE ALSO: League of Legends: Deft won Worlds out of "gentleness", bringing the title to "cheeky" Smeb and Mata
Going forward, Ivern's charm sharing passive will be updated to all champions in League of Legends, So the thing that makes the difference and the brand of this champion is also lost. In the ability to create groves, summoning the kicker Daisy doesn't have a comprehensive change, it's all just like the champion received a power update, not a skill change.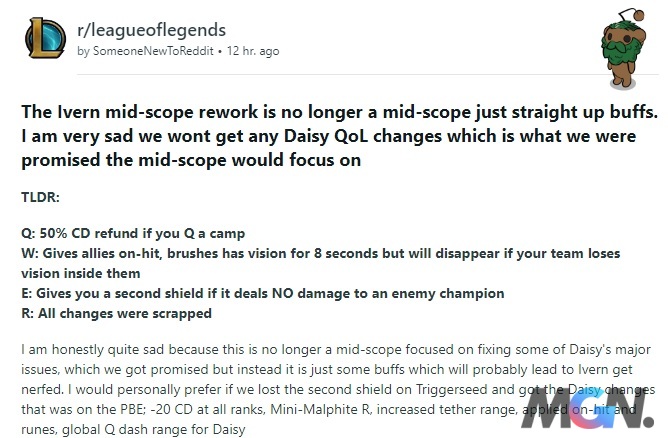 And of course, the gaming community League of Legends in general and the 'main Ivern' in particular will not be able to ignore this. They did not stop spamming against this update on the social networking forums of League of Legends, which had an impact on the community. Riot Games and they also promised to edit more and update this champion will have to continue to be delayed.
Riot made an affirmation that they will definitely make this champion worthy of four mid-range updates.
"After seeing a lot of mixed reactions from League of Legends players about Ivern's PBE update, we decided to reconsider. The development team will continue to research and create many strong possibilities. stronger than the Tree God's kit, and will fully make up for the loss of his 'exclusive' feature of buff sharing."
"We hope Ivern will have a better makeover on the PBE in the near future, so please wait patiently to see the return of Tree God, everything on the test server will still be tweaked. before the official release date." – Riot shared
Don't forget to follow MGN.vn to update more interesting information about League of Legends you guys!