The MSI tournament has also officially started for a few days, Kennen suddenly made the players of League of Legends worried because of his 'serious' skill set in combat.
To mark the start of the 2023 mid-season tournament, the match between the two teams is G2 with LOUD and DFM with PSG Heelthese stages took place extremely dramatic and fiery, did not disappoint viewers, especially in which, there was a champion that was not very noticeable in the normal rank but fell in the middle. banned list in the tournament with a rate of up to 100%, that face is Kennen.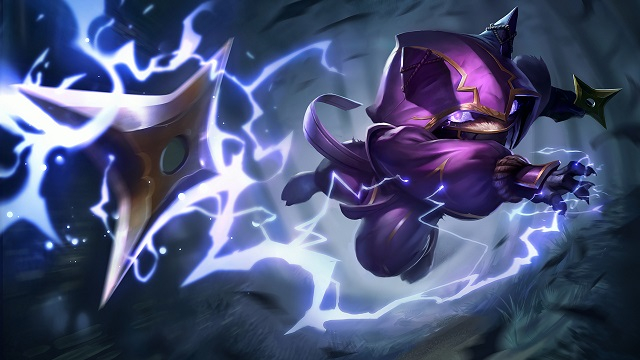 Know received a buff on Q and E in patch 13.5, Q – Lightning Darts have increased damage and cooldown reduction, with E – Lightning Speed ​​a percentage increase in lethality wounded soldiers.
SEE ALSO: League of Legends: Tuyet Nguyet's costume line returns with three familiar faces
Although the buff is quite strong, but in the arena Summoner's Rift Normally, Kennen's win rate still does not exceed 48% and is not the most interesting champion in the player's search.

In the normal ranks, Kennen only has a win rate of about 48%
However, coming to a playground for 'high skill' players like MSI 2023, Know suddenly became the top banned champion on the first day of competition. Kennen's win rate in the tournament is up to 62%. As can be seen, Kenne in the hands of the players of League of Legends how scary. .'s ultimate move Know – Thunderstorm is an extremely dangerous skill in teamfights.
The most popular equipment for Know is the Sorcerer's Shoe and Hextech Rocket Belt, his usual summoner spells are Flash and Teleport. Taking all of this together, Kennen players have two main opportunities to jump into combat either through Flash or Hextech, after reaching an enemy and casting his ultimate, Kennen will deal a large amount of damage. Significant magic damage every time you hit the target.

Kennen's win rate in the pro arena is very high
If Know able to land in the enemy's backline, he and his teammates can take down enemy ADCs and Supporters quickly. Therefore, professional players will not give Kennen an easy opportunity to appear in his matches.
Will Thunder Heart's banning streak continue in the following days of MSI 2023? Let's keep watching together!
Don't forget to follow MGN.vn every day to update more interesting information about League of Legends you guys.