The interface of League of Legends at the moment is generally relatively stable, but there is an issue related to the expression that makes players not very satisfied.
The expression mechanism in League of Legends is a very interesting form for you to express your style and charisma in the game, but sometimes it is also used to tease and mock opponents when there is a fight. success in Howling Abyss or Summoner's Rift. Not only that, but they also help players do a lot of things, specifically Aki – OMG's jungler used them as a way to clear vision for the purpose of determining whether to gank or not.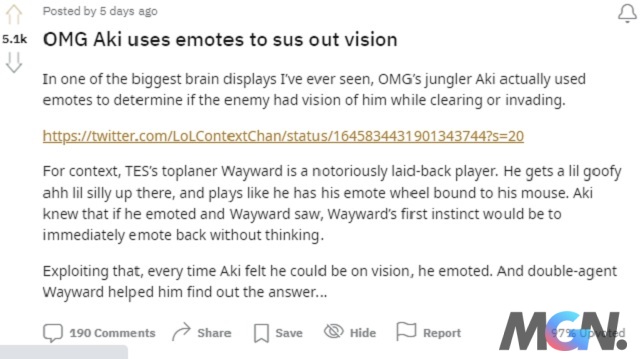 However, the expression system of League of Legends not a few, currently the treasure of expressions has reached 290 different symbols. A player on Reddit shared his frustration on April 17 that finding a specific expression is not easy because there is no search bar, the filter options of the system are very limited. . It's so complicated that players keep calling Riot to come up with a solution.
SEE ALSO: Chinese League of Legends fans wonder why Bin has to apologize to 369 after the trashtalk
To find the desired emoticon, the players League of Legends have to scroll once through the list of emoticons they have or filter the emoticons by date or their name, but both of these ways are considered not very convenient for gamers. Because not everyone can easily remember the name of the emoji or the timeline of its possession.
Therefore, many gamers have suggested to Riot that creating a search bar for this emote system will be the most necessary feature that Riot should create now. It will help players easily find the emoticon they want on the character or theme.
Sadly, the emoji systems and some other features seem to have been left behind by Riot in the development of the game. League of Legends of Riot at the present time, so players have given suggestions and encouragement so that Riot can pay more attention to it. Hopefully the father of League of Legends will pay attention and create these new features for gamers.
Don't forget to follow MGN.vn every day to update more new information!