After heavily tweaking the ranks of items in League of Legends 13.10, the gameplay and strength of some champions in the Bottom lane became completely changed.
The bottom lane meta in League of Legends experienced many drastic changes after Riot updated the popular equipment series of the ADC general class. Some players rose up the ladder with this adjustment and produced a lot of good results in the climb. However, there are still a few gamers who haven't been able to keep up with the pace of these changes, mostly with players who balance both ADC and Support roles.
Recently, the development team planned the 13.11 update of League of Legends, and posted it on Twitter on May 22nd. After just one remake, too many items and champions were heavily touched. Especially the champion class in bot lane, 4 out of 5 of the total nerfed champions are ADC and Support generals, specifically familiar names.: Jinx, Aphelios, Cog'Maw, Dumb.
The fact that Aphelios appears on this list has caused a lot of controversy, because this champion still has a relatively low win rate, at only 48.59%. So that Riot Games does not give the Twin Moon Warrior a buff but also an extra nerf.
SEE ALSO: League of Legends: Top 3 most impressive Archers with bows
Jinx, Kog'Maw it's more deserving, because they get a lot of advantages from equipment tweaks, most of the excellent and influential items in the current arena are the love items of these two generals. . Not only punishing them, Riot also pulled the popular equipment that made them strong, such as Cung Phong Linh, Phong Than Sword, Sword Ma….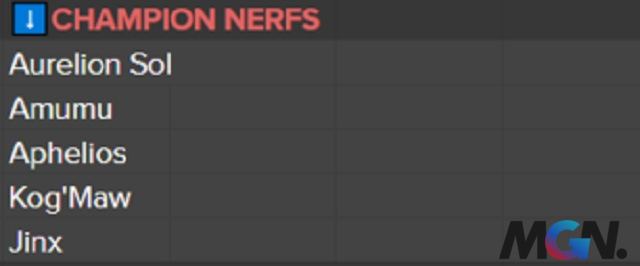 The nerf will also make ADCs who are 'flying' up at the moment like Jhin less bombarded. This champion in patch 13.10 has become the beloved ADC for any squad. Of course, after this equipment nerf, Jhin There won't be as much acting ground as before.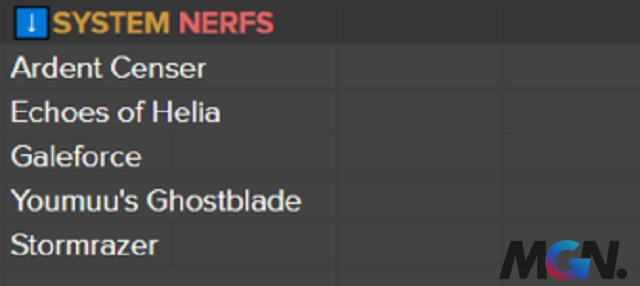 Equipment Echo Helia is making Support buff classes thrive, typically Sona, Janna, Milio, Yuumi, so they are also "hammered" to be more balanced in the next version.
It's unknown what specific changes Riot Games will make for these nerfs, but we'll get the full details later this month!
Don't forget to follow MGN.vn to update more new information about League of Legends you guys!