Lien Quan Mobile will not be able to touch the two words 'perfect' if the reporting and sanctioning system is not upgraded soon.
Not only Lien Quan Mobile, but any online team game also has a report system. This is a basic but very important function for gamers to denounce other players who are acting unfairly, negatively,…
However, the reality is not as expected, the denouncement system in Lien Quan Mobile is making genuine players frustrated when they have not achieved the effect of 'purging' the right person despite having experienced it a couple of times. edit.
There are many cases where the NPH turns a blind eye even though they themselves have been denounced by their teammates with cheating acts such as dirty buffs, map hacks, AFK, … on the contrary for some force majeure reasons such as: dropped the network, lagged machine but had many accounts unjustly BAN.
>> MORE: Many Vietnam Mobile Lien Quan Fanpages were criticized by Taiwan Dev Garena
Explaining this problem, the publisher Lien Quan Mobile said that the one who broke the game was the one who received the most damage or took down the most towers. For a player who intends to break the game, they will have a loose fighting style and try to let the enemy team eat, the more defeated, the more damage will be received. And the game system will record THAT ACHIEVEMENT.
Obviously, it is very difficult to accept that breaking the game is an achievement for whatever reason. In addition, there are a series of cases where AFK half a match or a whole match, but when reporting is still not sanctioned. These things have gradually made most players feel uncomfortable and impatient with Lien Quan Mobile's reporting system.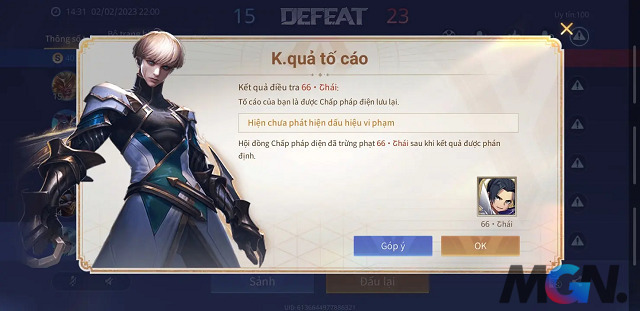 Make a case with the SP player – A position that is the hardest to kill but very important, when being denounced, is more often punished than other positions for dying too much compared to the number of lives eaten.
In short, the reporting system seems to be working quite 'emotionally', handling it randomly instead of selecting the right people. If this is the case, sooner or later players will cool off with their favorite game and this will be very detrimental to the development team. What do you think?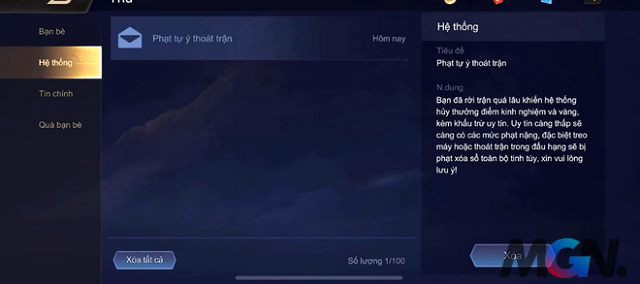 The latest and most interesting information about Arena of valor will be continuously updated and reported by MGN.vn every day. Follow us often so you don't miss out!