Sniffer is the first ancient creature mob of Minecraft, born in the last update version 1.20, so many players are still quite surprised.
What is Sniffer in Minecraft?
Sniffer was the 'winner' of the 2022 Minecraft Mob poll. This is a passive mob, released with version 1.20 of the game.
They are basically the first ancient creatures and possess some unique powers. Sniffer roams the Overworld, moving his extremely agile nose and sniffing out ancient seeds. This mob will dig ancient seeds out of the ground – which players can collect to grow exclusive plants.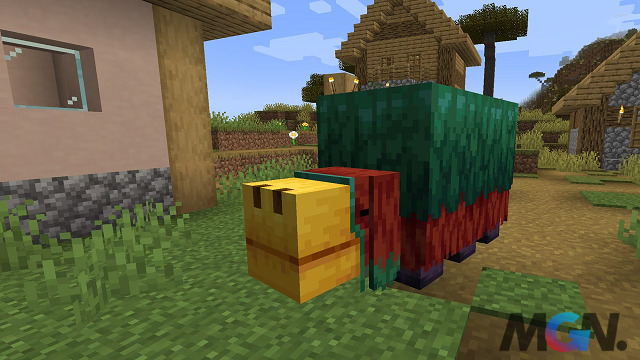 Sniffer locations appear in Minecraft
Sniffer is one of the few Minecraft mobs that cannot spawn naturally in the game's world. Instead, you must help them hatch from an ancient egg in the form of a Snifflet. These newborn Snifflet or Sniffer will evolve into the giant dinosaur mob we know and love.
Since Sniffer is an ancient mob, its eggs will hide in archaeological blocks and underwater structures such as in suspicious sand blocks or ocean ruins.
>> MORE: Minecraft: Discover the uses of the new item – Brush in version 1.20
Basic attributes of Sniffer
Health & Recovery
Although Sniffer is one of the largest mobs in Minecraft, its size does not match its strength. They have a health rating of 14 points (equivalent to 7 player hearts). And it's a pity that Sniffer doesn't have a recovery mechanism even when dying.
In addition to the special sniffing ability, Sniffer has no defensive skills, easily losing his life when encountering Fire/Lava or falling.
Attack
Being a passive mob by nature, Sniffer will not attack the player. If they die, they will drop 1-3 exp (about 10% of the time) and a moss block. We shouldn't harm them, though, because this booty has nothing to do with the benefits of breeding them.
Sniffer's Quest in Minecraft
As mentioned, Sniffer wanders the Overworld aimlessly. It can avoid obstacles such as Water, Fire, Lava and blocks that cannot be climbed. While roaming, Sniffer sniffs around (possibly looking for seeds) and moves his nose very abruptly.
Then, every short period of time, Sniffer ducks his head into the ground and slowly digs the ancient seeds out of the ground. Players will pick them up and plant them in the ground to harvest unique plants.
Above is all the basic information about the Sniffer mob that has just landed in Minecraft. Hopefully the article of MGN.vn will help gamers when experiencing the new content of the 1.20 update.