If you regularly follow MSI 2023, you will surely hear a lot about the "one-shot four-slave" strategy recently applied by JDG. So what is that tactic?
JDG has just had a close 3-2 victory over the top competitor competing for the MSI 2023 championship, T1, thereby pushing T1 down to the losing branch and forced to compete with "countrymen" GEN. In this context, the "LCK Open" final is no more, even if BLG does well enough, the LPL will once again hold its head against the LCK and turn the MSI 2023 final into the LPL Open final.
JDG is the team that applies the most max pings to the "one-shot four-slave" strategy that has been constantly mentioned by the League of Legends community in recent times. This tactic is quite easy to understand as "one gunner with four slaves", which means that the gunner will be the most important person in the squad and the remaining 4 positions are all responsible for taking care of and protecting the gunner. This.
For that reason, this strategy will have a win condition that must have a superstar ADC and the team must have absolute confidence in that ADC. Very fitting JDG has 2 conditions: Ruler and all believe in Ruler. Of course Ruler did not disappoint his teammates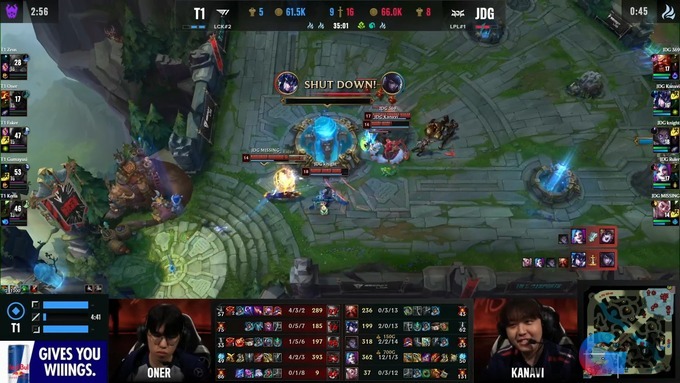 Ruler always keeps a very good distance in combat, even in many cases when a fight breaks out, we can only see Ruler's bullet path, but he stands very far away and hides the angle very carefully. When T1 picked Nautilus for Keria, JDG sent someone out to receive this champion's Q scissors, as long as Ruler's Aphelios got a safe angle. This is the key to the success of "the most successful four slaves".
Not only JDG but also T1 applied this strategy with great success, but unfortunately their 5th game was not as expected. However, falling to the losing branch makes many T1 fans quite "peaceful" because T1 has had a hard time winning the championship for 4 consecutive seasons.