What's better than adventure in a world full of giant dinosaurs? Let's explore with MGN.vn the titles of this theme right away!
Dinosaur is a topic that is heavily exploited in the entertainment industry, typically in movies, models and even video games. Most games revolving around Dinosaur are role-playing, survival games, allowing players to chase them or transform into them to fight opponents…
In general, there are many dinosaur games, but not all games are attractive and successful enough. Therefore, MGN.vn will suggest you the top 3 best today on PC. Let's explore together!
>> MORE: Top 5 best free multi-platform games in 2023
Ark: Survival Evolved
Release year: 2015
Developer: Studio Wildcard.
This is a dinosaur game of the fighting survival genre. The player's initial task is to craft a spear strong enough to fend off pesky predators before joining in to destroy the dinosaurs.
Although the gameplay is not overrated by experts, it is the variety of creatures, hunts and tames in Ark: Survival Evolved that has helped retain a large number of PC gamers, leaving them free to explore. diverse biomes for hundreds of hours. In particular, this game also has a lot of mods that add interesting content.
Jurassic World Evolution 2
Release year: 2021
Developer: Frontier Developments
While many dinosaur games on PC focus on hunting or destroying these creatures, the direction of the Jurassic World Evolution series sets it apart by creating a dinosaur farming experience.
Jurassic World Evolution 2 introduces many new management tools and a variety of dinosaurs with more complex behaviors and needs. In Chaos Theory mode, you can test your crisis management skills in situations directly inspired by the movies, as you take charge of parks on the brink of disaster.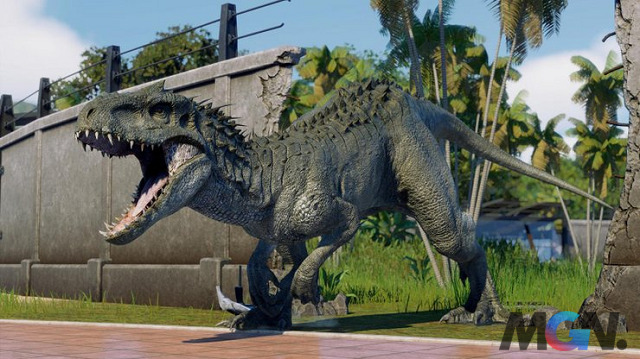 Primal Carnage
Release year: 2012
Developer: Lukewarm Media
As mentioned, most dinosaur games revolve around the battle between humans and these dangerous giant creatures. And that's what players can expect from Primal Carnage. On one side, the hunters are armed with large guns, and on the other hand, the giant reptiles are always in a ready-to-battle position.
Primal Carnage brings dramatic but equally hilarious brawls. Promises to bring gamers the best experience moments.
Don't forget to follow MGN.vn regularly to update hot news around the domestic and international gaming village!